Anupam Kher's Shiv Shastri Balboa Trailer Prompts You To Go Skydiving And Superbike Riding! In Cinemas On Feb 10
Sometimes when you get lost, you find yourself, and realise that life was always a journey, not a destination.
All it took Shiv Shastri Balboa (Anupam Kher) who set out to help his friend Elsa (Neena Gupta), to fuel the thought train that got him kick his  adrenaline into high spice-of-life adventure gear, get off the comfort couch of his son Rahul's (Jugal Hansraj) home and explore the unknown!
Joining him in his rollercoaster ride, is the gregarious Cinnamon Singh (Sharib Hashmi) and his goregous kindhearted girlfriend Sia (Nargis Fakhri). In comes a gang of bikers and Shiv Shastri finds himself partaking in an epic life-ride, his son's dog Casper aka Capsule pumping him up, pushing him beyond his limits and eventually connecting with his higher self and daring to run up the steps of his life goals with energy and enthusiasm.
The trailer launch of Shiv Shastri Balboa took place at PVR Icon and in rode Anupam Kher and Neena Gupta pillion riding with a gang of Superbikers!
Now if that isn't an adventure, what is!
Yours to join Shiv Shastri Balboa in the uncommon adventures of a common man and come out wanting to pillion ride superbikes and go skydiving!!!
Directed by Ajayan Venugopalan, starring Anupam Kher, Neena Gupta, Jugal Hansraj, Nargis Fakhri, Sharib Hashmi,  Presented by UFI Motion Pictures Pvt Ltd — Kishore Varieth, Anupam Kher Studios and Tarun Rathi, Producer: Kishore Varieth, Executive Producer: Ashutosh Bajpay,  Shiv Shastri Balboa releases in cinemas on Feb 10.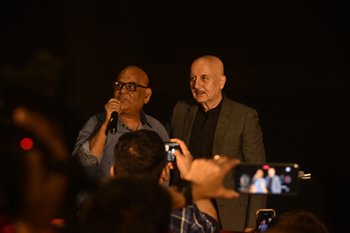 Anupam Kher's Shiv Shastri Balboa Trailer Prompts You To Go Skydiving And Superbike Riding! In Cinemas On Feb 10