TV Star Rupali Ganguly Teams Up With Director Sajan Agarwal For A New Project
Director Sajan Agarwal and TV star Rupali Ganguly have come together for a new untitled project that promises to captivate audiences with its compelling storyline and visually stunning cinematography. The untitled project, which was shot under the direction of Sajan Agarwal, features Rupali Ganguly showcasing her versatility as an actor.
Sajan Agarwal is known for his ability to create visually stunning directions that tell a story and evoke emotions in audiences. He has directed numerous successful films and web series that have received critical acclaim and commercial success. For this latest project, Sajan has teamed up with Rupali Ganguly, one of India's most popular TV stars, known for her powerful performances on the small screen.
Sajan Agarwal added, "Rupali Ganguly is a fantastic actress, and working with her has been a great pleasure. I can't talk about the shoot but it has come out better than we expected and I am sure audiences will love it."
The project will be premiered on major TV networks and digital platforms in the coming weeks and is expected to receive widespread viewership and positive reviews. This collaboration between Sajan Agarwal and Rupali Ganguly is a testament to their talent and professionalism and will set a new benchmark in the industry.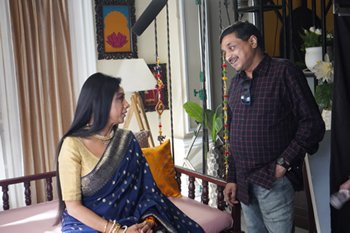 TV Star Rupali Ganguly Teams Up With Director Sajan Agarwal For A New Project