Aqua Divine Fashion Show By Aneebee Entertainments Warms Up A Wintry Kolkata Evening
A glitzy `Aqua Divine Swimwear Fashion Show' – organized by Aneebee Entertainments – warmed up a very happening Kolkata evening as foreign and Kolkata models scorched the ramp at a high voltage event hosted by The Westin Rajarhat and outfit partner Skycrew by Malobika.
Showstopper Malobika Banerjee's presence only confirmed that a swimwear fashion show in winter wasn't at all out of place. As a run up to the summers, the Show was a sneak peek of interesting ideas to look forward to.
"The cloth and materials used for the artfully-designed swimwear has been made with reusable products and extinguished materials of different states in India. It has a strong connection with elements of pan-India ethnicity as well as local heritage," says Malobika Banerjee of Sky Crew – actor, pop queen, singer, songwriter. She added that fashion is not only for looking gorgeous, it should be a huge social responsibility which affects society in very positive ways.
"Feminism isn't about making women stronger. Women are already strong, it is about changing the way the world perceives their strength. Today's event is an attempt to create a domino effect, to bring a change in the perspective on how women are looked upon at on the basis of their lifestyle and clothing. In this event, that is exactly what we plan to achieve, and hence the theme – `Amar Poshak Amar Decision' – becomes relevant," says fashionista and entrepreneur, Anita Dutta, CEO, Aneebee Entertainments.
"Also, the deep thought behind the use or rather re-use of unique unconventional natural materials for making the wearable is a fashion statement in itself a trendsetter for the summers. It is very heartening to be appreciated by a discerning Kolkata audience,"
The sundowner Show drew tinsel town celebs and fashion aficionados in good measure who rubbed shoulders with other eminent Kolkatans and young fashion wannabes and professionals.
The event was high in terms of not only the glamour quotient but also for its focus on social issues pertaining to women and also fashion and sustainability. It was also iconoclastic in advocating the voice for freedom of outfit for women; uphold the dignity of choice for women.
"While appealing to the fashion sense, Aneebee Entertainments is also dedicated to the cause of creating awareness of sustainable development and concern for India's biodiversity and ecosystem. The Aqua Divine Swimwear Fashion Show can aptly be called – an amalgam of sensuality and sensitivity," says Anita Dutta a supporter of women's causes and sustainable fashion.
Women and Sustainable fashion:
In our society women are judged on the basis of the outfit she wears, complexion she is born with and the profession she chooses. The challenge is to break this stereotypical mindset and spread awareness among women to exercise their choice of outfit freely and with dignity. On the other hand, sustainable fashion, is an approach to fashion design and production that aims to reduce the environmental and social impact of the fashion industry. This can include using environmentally or eco-friendly materials, implementing ethical labour practices, and reducing waste throughout the production process.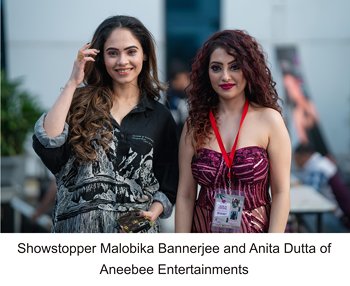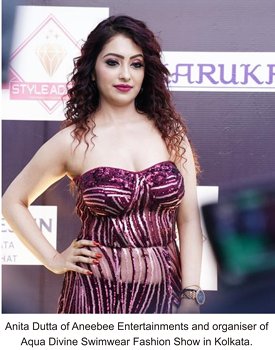 Aqua Divine fashion show by Aneebee Entertainments warms up a wintry Kolkata evening