Mary Kom Inspires Anupam Kher Spars With Him At Shiv Shastri Balboa Poster Launch
MC Mary Kom unveiled the posters of Shiv Shastri Balboa, an inspirational film of a common man with uncommon adventures starring Anupam Kher, Neena Gupta, Jugal Hansraj, Nargis Fakhri, Sharib Hashmi at Actor Prepares.
Anupam Kher and Mary Kom, both ardent admirers of each other, spoke of acting and boxing. Mary Kom taught Kher a few moves that he religiously learnt and even sparred with Mary Kom in a mock match with a friendly ring!
Said Anupam Kher, "I wanted the poster to be released by a national icon associated with sport, especially boxing. Mary Kom is so real and so warm-hearted. She was generous with her praise. She loves the fast game and hates ad film retakes. And admits that with ease. She is the pride of India."
Says Anupam Kher, visibly humbled by Mary Kom's simplicity of personal and her uninhibited laughter. "Those who laugh aloud and always good-hearted. I always admired Mary Kom, but I am simply overwhelmed by her humility today. She is a true champion."
Added Anupam Kher, "Shiv Shastri Balboa is a wacky film, the story of two strangers who meet in America and how their life takes a new turn.
It is funny, wacky, it is crazy, its inspirational. His pug that he fondly calls Capsule has his opinion on almost everything, and it is communicated to the audience in blurbs."
Elaborates Anupam Kher, "Neena ji is a fine actress and a person. Plus, we have Sharib Hashmi in an amazing role, Jugal Hansraj is back after a long time and we have Nargis Fakhri in a beautiful role. Ajayan Vengopalan is our director, and he has helmed Metro Park Series before."
Presented by UFI Motion Pictures, Anupam Kher Studios and Tarun Rathi, Shiv Shastri Balboa is Produced by Kishore Varieth, Directed by Ajayan Venugopalan, Ashutosh Bajpai is the Executive Producer of the film.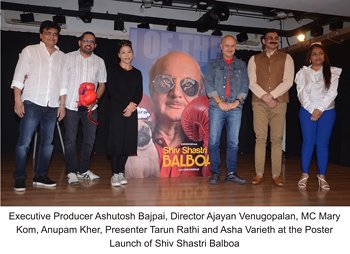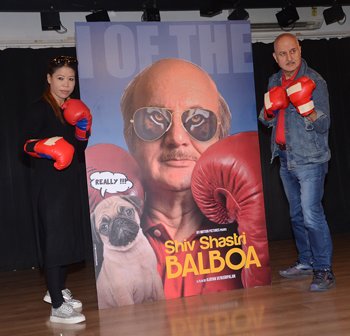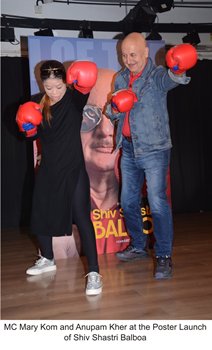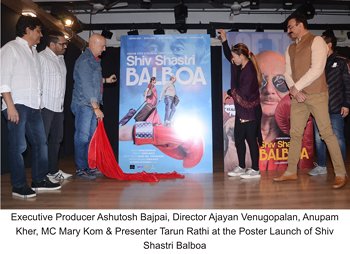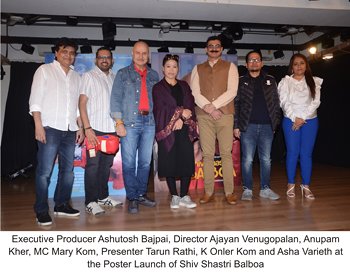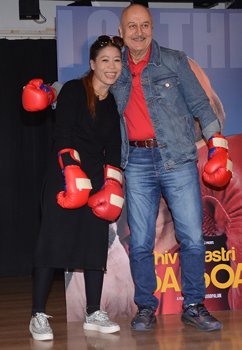 Mary Kom Inspires Anupam Kher  Spars With Him At Shiv Shastri Balboa Poster Launch